23 No 2
Earning more from forests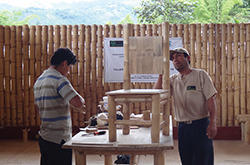 Many people make a good living by harvesting and processing timber and non-timber forest products, but a great many more are poor. A key task for forest policymakers, foresters and extension agencies is to enable forest-dwelling people to earn more from forests. This edition of the TFU looks at the role of forests in livelihoods. Ewald Rametsteiner and Adrian Whiteman (p. 3) present an article summarizing FAO's State of the World's Forests 2014, which surveyed the socioeconomic benefits provided by forests.
Full edition

The ITTO Tropical Forest Update is published quarterly in English, French and Spanish; the French and Spanish editions are usually posted about a month later than the English.


Content does not necessarily reflect the views or policies of ITTO. ITTO holds the copyright to all photos unless otherwise stated. Articles may be reprinted without charge providing the ITTO Tropical Forest Update and author are credited and the editor notified (tfu@itto.int).