22 No 2
Keeping Track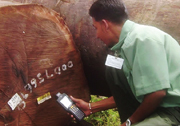 Foresters and forest planners have always needed to know the location of timber resources, including for planning forest management and harvesting operations, for monitoring wood flows to mills and ports, and for marketing of forest products.
Full edition

The ITTO Tropical Forest Update is published quarterly in English, French and Spanish; the French and Spanish editions are usually posted about a month later than the English.


Content does not necessarily reflect the views or policies of ITTO. ITTO holds the copyright to all photos unless otherwise stated. Articles may be reprinted without charge providing the ITTO Tropical Forest Update and author are credited and the editor notified (tfu@itto.int).