20 No 1
Biodiversity is life
The world's ecosystems provide environmental services we simply cannot live without. As an integral part of nature, our fate is tightly linked with biological diversity, i.e. the huge variety of animals, plants and microorganisms that live in mountains, forests, oceans, wetlands and other ecosystems. We rely on this diversity of life to provide us with essentials such as water, food, fuel and medicine. Yet each day an estimated 150 species disappear, many due to human activities.
Full edition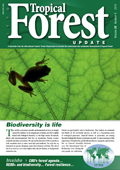 The ITTO Tropical Forest Update is published quarterly in English, French and Spanish; the French and Spanish editions are usually posted about a month later than the English.


Content does not necessarily reflect the views or policies of ITTO. ITTO holds the copyright to all photos unless otherwise stated. Articles may be reprinted without charge providing the ITTO Tropical Forest Update and author are credited and the editor notified (tfu@itto.int).