19 No 4
Assessing achievements
Evaluating progress towards an organization's goals or objectives is not easy. It requires a clear baseline to start such an analysis from, a good understanding of how outputs contribute to objectives and a willingness to examine faults and weaknesses as rigorously as positive achievements.
Full edition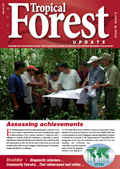 The ITTO Tropical Forest Update is published quarterly in English, French and Spanish; the French and Spanish editions are usually posted about a month later than the English.


Content does not necessarily reflect the views or policies of ITTO. ITTO holds the copyright to all photos unless otherwise stated. Articles may be reprinted without charge providing the ITTO Tropical Forest Update and author are credited and the editor notified (tfu@itto.int).