中央アメリカにおける森林法施行のためのFAO/ITTOの地域ワークショップ
中央アメリカにおける森林法施行のためのFAO/ITTOの地域ワークショップ
日付・会場: 2007年6月27-29日、ホンデュラス、サン・ペドロ・スーラ
President of Honduras addresses Central American regional workshop on illegal logging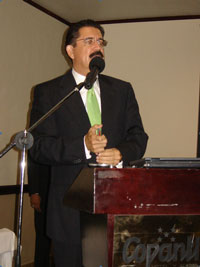 Honduran President José Manuel Zelaya Rosales was the guest of honour at a recent ITTO-FAO sponsored workshop to promote better forest law compliance in the Central American region. President Zelaya told the more than 60 experts from nine countries attending the workshop that social change was required in Honduras and many other countries in the region to improve recognition of the importance of sustainable development and management of forest resources. He noted that such change would often be resisted by vested interests, and that vigorous efforts needed to be maintained to fight illegal logging, illegal trade of timber and illegal deforestation. He stressed the importance of implementing and enforcing existing laws, noting that his government was mobilizing the armed forces (including thousands of armed troops, helicopters and other supporting infrastructure) in its battle against commercial illegal loggers.

The workshop, one of four being jointly convened by ITTO and FAO throughout the tropics, was held in the northern Honduran city of San Pedro Sula from 27-29 June. Participants included forestry administrators, environmental prosecutors, civil society and the private sector from Belize, Costa Rica, Dominican Republic, El Salvador, Guatemala, Honduras, Mexico, Nicaragua and Panama. The workshop was convened in collaboration with the Honduran Forest Administration (AFE-COHDEFOR) and the Central American Commission for Environment and Development (CCAD). All participating countries were CCAD members with the exception of Mexico, which is an observer.

Objectives of the workshop were to:
facilitate an interchange between countries and representatives of different sectors from the region on their experiences in dealing with illegal logging and illegal timber trade;
promote dialogue between the various actors working in forests in the region;
develop recommendations of best practices to improve forest law compliance, emphasizing the policy and legal framework, institutional structures and mechanisms for participation of civil society, and technology/information; and
prepare recommendations for CCAD to assist member countries to improve the implementation of forest laws.
The final report (including a declaration from the participants) and all presentations from the workshop will be available shortly on
www.itto.or.jp
and
www.fao.org
.
ITTO's Executive Director, Dr Manoel Sobral, attended the workshop and took part in a signing ceremony for a new Honduran project with President Zelaya and Mr Ramon Alvarez, General Manager of AFE-COHDEFOR. The US$400,000 project is designed to strengthen Honduras' forest statistics and information centre, including providing information required to combat illegal forest activity. Information on this project (PD 443/07 Rev.1 (M)) is available on ITTO's website (
www.itto.or.jp/funding/
).
連絡先
Steven Johnson, ITTO Secretariat
Email: itto@itto.or.jp
Fax: +81 45 223 1111