25 No 4
Council appoints new head of ITTO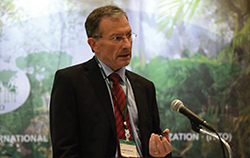 Full edition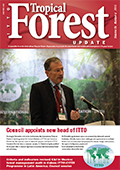 The ITTO Tropical Forest Update is published quarterly in English, French and Spanish; the French and Spanish editions are usually posted about a month later than the English.


Content does not necessarily reflect the views or policies of ITTO. ITTO holds the copyright to all photos unless otherwise stated. Articles may be reprinted without charge providing the ITTO Tropical Forest Update and author are credited and the editor notified (tfu@itto.int).
Contents of TFU 25 No. 4
• Continuing the work on C&I

• The participatory development of C&I in southeastern Mexico

• How well are companies implementing SFM?

• The ITTO–CITES Programme in Latin America

• 52nd session of the International Tropical Timber Council

• Fellowship report

• Market trends

• Recent editions

• Meetings