24 No 3
Testing the mettle of tropical timber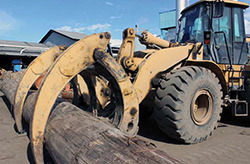 Tropical timber is locked in a battle for market share with substitute products such as non-tropical woods, metals such as aluminium, and plastics. Tropical timber has many fine features—such as durability, aesthetic appeal, and strength—but its competitors also have saleable qualities.
Full edition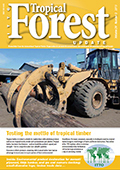 The ITTO Tropical Forest Update is published quarterly in English, French and Spanish; the French and Spanish editions are usually posted about a month later than the English.


Content does not necessarily reflect the views or policies of ITTO. ITTO holds the copyright to all photos unless otherwise stated. Articles may be reprinted without charge providing the ITTO Tropical Forest Update and author are credited and the editor notified (tfu@itto.int).
Contents of TFU 24 No. 3
•Declaring for the environment

•Aiming higher with Khaya

•Plywood's journey from cradle to gate

•Checking the decking

•Will small logs become a big deal?

•The changing timber trade

•Fellowship report

•Market trends

•Topical and tropical

•Recent editions

•Meetings