23 No 4
Going Downstream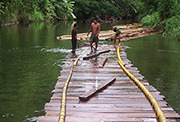 Over the years, ITTO has funded many projects and activities aimed at supporting the development of sustainable, value-added timber-based industries in tropical countries. The establishment of local timber-processing ("downstream") industries can benefit countries in many ways, such as by providing employment, contributing to government revenues and encouraging sustainable forest management and the development of timber plantations. In this edition of the Tropical Forest Update, we examine some of ITTO's efforts to assist its member countries in going downstream.
Full edition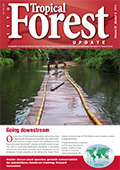 The ITTO Tropical Forest Update is published quarterly in English, French and Spanish; the French and Spanish editions are usually posted about a month later than the English.


Content does not necessarily reflect the views or policies of ITTO. ITTO holds the copyright to all photos unless otherwise stated. Articles may be reprinted without charge providing the ITTO Tropical Forest Update and author are credited and the editor notified (tfu@itto.int).
Contents of 23-4
• Timber that lasts

• Harnessing valuable tropical timber outside natural forests

• Hands-on training to improve factory efficiency

• The new resource

• Waste not a particle

• Hedging bets on ramin

• Safeguarding iroko

• Council announces new funding

• Fellowship report

• Market trends

• Recent editions

• Topical and tropical

• Meetings