22 No 3
Sustainable forest industries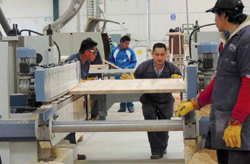 The tropical forest industry has had its share of bad press,unfortunately sometimes deservedly so. While the negative stories of unsustainable practices seem to always garner the most attention, an equally compelling case can be made for the transformative effect forest industries can have on tropical economies and sustainable development.
Full edition

The ITTO Tropical Forest Update is published quarterly in English, French and Spanish; the French and Spanish editions are usually posted about a month later than the English.


Content does not necessarily reflect the views or policies of ITTO. ITTO holds the copyright to all photos unless otherwise stated. Articles may be reprinted without charge providing the ITTO Tropical Forest Update and author are credited and the editor notified (tfu@itto.int).
Sustaining South Kalimantan
Re-energizing Nigeria's forest and wood products sector.
The great plantation expansion
Using traditional knowledge in forest restoration
Saving an iconic species.
India's arid-zone forest biodiversity at risk
New start for forestry in Peru.
Fellowship report
22 No 3
Market trends