22 No 1
Regeneration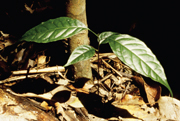 Just as tropical forests renew themselves, so has ITTO. On 7 December 2011, the International Tropical Timber Agreement 2006 entered into force, ushering in a new era for ITTO. This issue of the TFU, the first to be published after the entry into force of the ITTA 2006, celebrates this new beginning.
Full edition

The ITTO Tropical Forest Update is published quarterly in English, French and Spanish; the French and Spanish editions are usually posted about a month later than the English.


Content does not necessarily reflect the views or policies of ITTO. ITTO holds the copyright to all photos unless otherwise stated. Articles may be reprinted without charge providing the ITTO Tropical Forest Update and author are credited and the editor notified (tfu@itto.int).