Actualités des Forêts Tropicales

Numéro 29 No. 1
Advancing forestry education in the Congo Basin
Mastering the forestry profession has never been a mere walk in the (forest) park, but meeting the needs of sustainable forest development is an increasingly complex task. In addition to traditional fields such as forest ecology, mensuration, planning and economics, foresters must now embrace integrated landscape approaches, participatory forest management, new technologies and climate change.

An ITTO study conducted in five countries in the Congo Basin more than a decade ago concluded that there was a shortage of personnel with the qualifications needed to ensure sustainable forest development in the subregion. Several ITTO projects have since been undertaken to address this, culminating in a subregional project conducted between 2012 and 2019 encompassing seven main beneficiary education institutions across five countries. The project contributed to several of the Sustainable Development Goals (SDGs), especially SDG 4 (quality education); this edition of the TFU presents some of its results.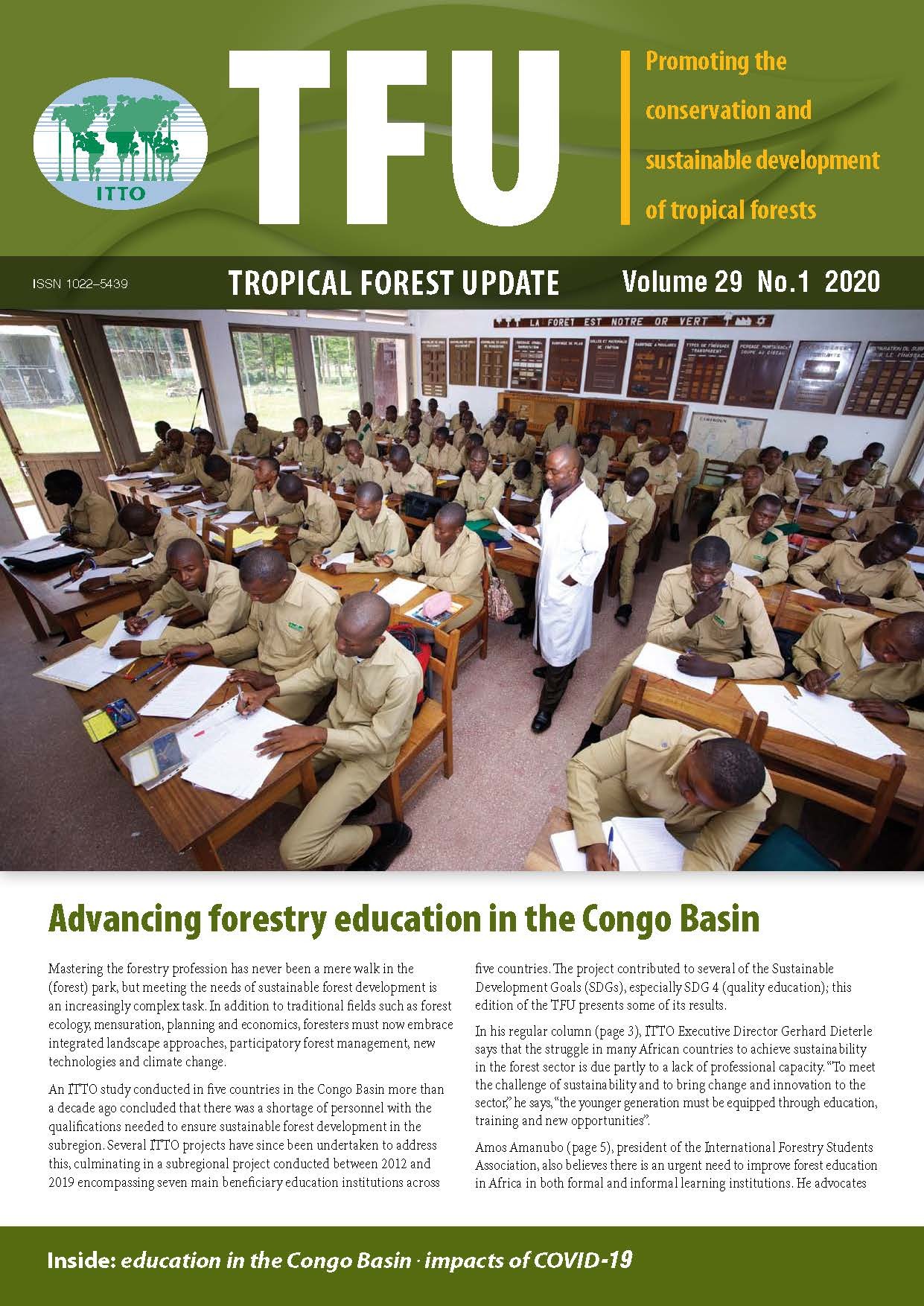 Édition intégrale
Actualités des Forêts Tropicales (TFU) est une revue trimestrielle publiée en anglais, espagnol et français; les éditions espagnole et française sont en général mises en ligne un mois environ après la version anglaise.
Les articles publiés ne reflètent pas nécessairement les opinions ou les politiques de l'OIBT. Sauf indication contraire, l'OIBT détient les droits d'auteur pour toutes les photographies publiées. Les articles peuvent être réimprimés librement, à condition de mentionner «Actualités des Forêts Tropicales» comme en étant la source ainsi que l'auteur, et d'en informer la Rédaction (tfu@itto.int).