Actualidad Forestal Tropical

Número 29 No. 1
Advancing forestry education in the Congo Basin
Mastering the forestry profession has never been a mere walk in the (forest) park, but meeting the needs of sustainable forest development is an increasingly complex task. In addition to traditional fields such as forest ecology, mensuration, planning and economics, foresters must now embrace integrated landscape approaches, participatory forest management, new technologies and climate change.

An ITTO study conducted in five countries in the Congo Basin more than a decade ago concluded that there was a shortage of personnel with the qualifications needed to ensure sustainable forest development in the subregion. Several ITTO projects have since been undertaken to address this, culminating in a subregional project conducted between 2012 and 2019 encompassing seven main beneficiary education institutions across five countries. The project contributed to several of the Sustainable Development Goals (SDGs), especially SDG 4 (quality education); this edition of the TFU presents some of its results.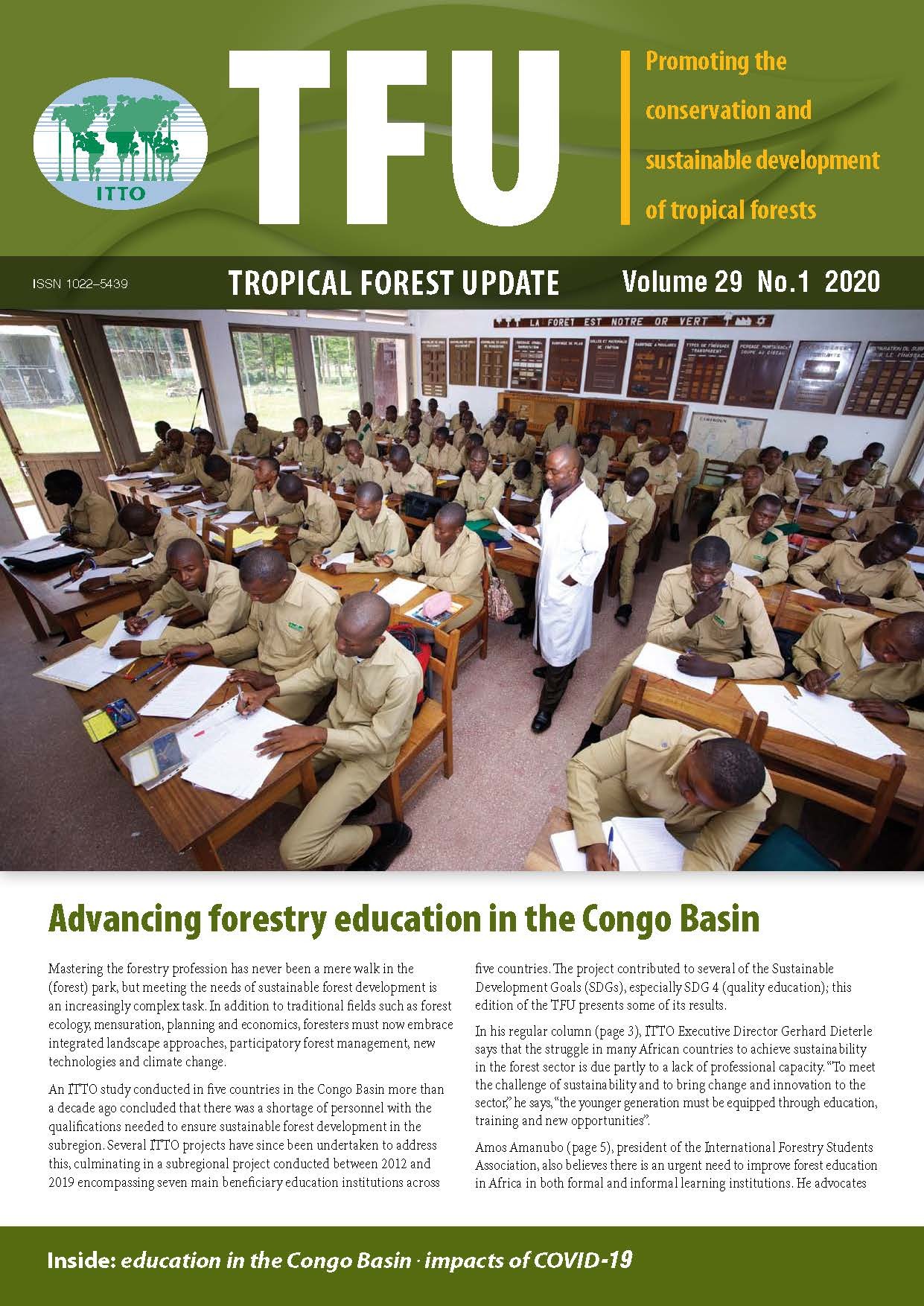 Edición completa
Actualidad Forestal Tropical (TFU) es una publicación trimestral de la OIMT editada en español, francés e inglés. En general, las ediciones española y francesa se publican en la página web aproximadamente un mes después de la edición inglesa.
El contenido de esta publicación no refleja necesariamente las opiniones o políticas de la OIMT. La OIMT tiene derechos de autor sobre todas las fotografías a menos que se indique lo contrario. Los artículos pueden volver a imprimirse de forma gratuita, siempre que se acrediten como fuentes "Actualidad Forestal Tropical de la OIMT" y el autor en cuestión, y se notifique al editor (tfu@itto.int).