Sustainable forest management needs "incentives revolution", says Executive Director
25 July 2018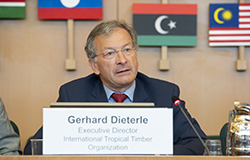 ITTO Executive Director Gerhard Dieterle says governments needed to do more to encourage sustainable forest management (SFM) in the tropics, including by providing incentives.
"In many countries, unsustainable production is more profitable than sustainable practices, which are more expensive," he said. "So we need a revolution in terms of how the public sector is providing incentives and how it promotes sustainable forest management against unsustainable forest management." Dr Dieterle made the comments as part of a panel discussion, "Sustainable Wood for a Sustainable World", held during the 24th session of FAO's Committee on Forestry and sixth World Forestry Week, held in Rome, Italy, on 16–20 July.
Dr Dieterle said that one of the crucial "ingredients" for the widespread uptake of SFM is increasing the demand for sustainably produced forest products by linking forest producers and wood consumers through green supply chains.
"If there is no demand for sustainable products we have no sustainable forest management," he said.
Other crucial ingredients, said Dr Dieterle, are a conducive policy, legal, economic and institutional environment; addressing land tenure to keep families on the land; and building more capacity to implement SFM and green supply chains. He pointed out that a lack of capacity to implement SFM is a key barrier to investments in tropical forest production, especially from developed countries.
The panel discussion had eight other speakers.
Beth MacNeil, Canada's Ministry of Natural Resources, spoke about how the use of forests, wood and wood fibres contributes to the achievement of the Sustainable Development Goals. For example, forest biomass is becoming increasingly important for energy production and the substitution of non-renewable materials.
Magner Adolfo Estrada Barrera, Guatemala's Vice-Minister of Environment, said that SFM has been a very effective tool for forest development and conservation in his country. Forest communities implementing SFM in Guatemala are now enjoying higher incomes, better education and a higher quality of life.
Charles Nyanhui, from the International Family and Forestry Alliance, said that building capacity in community forestry was essential for enabling smallholders to increase the sustainable yields of forest products and therefore their incomes.
Marten Larsson, from the Swedish Forest Industries Federation, said that forests have been important for Sweden's national economy, but the implementation of SFM has also enabled the country to double its standing wood volume since the 1920s. A lesson learned is that innovation is a driver for unlocking the potential of forests.
Eva Müller, FAO's Director of Forest Policy and Resources, stressed the need to change the narrative about forests—looking beyond negative news on deforestation to communicating the potential of forests to contribute to sustainable development.
Vicent Gitz from the Center for International Forest Research said that science can help document the tradeoffs and synergies involved in managing forests for different uses, thereby helping improve decision-making.
Gijs Breukink, from the World Wide Fund for Nature, spoke about the value of "connecting the dots" between SFM and trade and using innovation to ensure the competitiveness of wood against other materials.
Werner L. Kornexl, from the World Bank's Program on Forests, said climate finance for tropical forests is low, due partly to a problem of perception. The case for the economic relevance of productive forests needs to made, he said, to change the perception of tropical forest production as a risky venture. He agreed with Dr Dieterle on the need for a complete review of incentives that promote SFM.
"Sustainable Wood for a Sustainable World" is an initiative of the Collaborative Partnership on Forests, of which ITTO is a member. Its aim is to strengthen sustainable wood value chains from production to consumption to enhance their economic, social and environmental benefits.