TOP >
Statistical capacity building
Statistical capacity building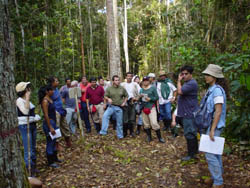 ITTO's Annual Review and Assessment of the World Timber Situation depends largely on statistical information supplied by members, but many countries, both within and beyond the tropics, need more help to deliver this information to an adequate standard.

ITTO has been providing such help through a series of projects under which 15 training workshops have been held in each of the three producing regions of Africa, Latin America and the Caribbean, and Asia and the Pacific. These workshops give participants, in many cases their country's nominated statistical correspondent, hands-on experience in the collection, analysis and dissemination of forestry statistics, including sessions on completing the annual statistical enquiry (the Joint Forest Sector Questionnaire) received from ITTO. Regional workshops had been held in Australia (with FAO), Bolivia, Brazil, Cameroon, Colombia, Côte d'Ivoire, Gabon, India, Malaysia, Peru, Thailand (with FAO), Togo and Venezuela and for over 500 trainees from 40 countries.

To further strengthen tropical timber trade data collection, analysis and delivery, ITTO has responded, through its project funding mechanism, to member country requests for specific national projects on trade transparency and improving data collection and analysis. To date, the Organization has funded 32 such projects in more than 20 countries, focusing on those countries with the greatest need for improving their statistical responsibilities to the Organization. In Gabon, for example, ITTO projects developed capacity for the collection and computer processing of forest statistics. In Peru, an ITTO project established a strategic forest information centre to collect and disseminate information on, among other things, the harvest and transport of all timber in the country. In Fiji, an ITTO project developed an export market intelligence monitoring system to provide a chain of custody for timber exports. Other statistical development projects and pre-projects are currently under implementation in Cameroon, Colombia, Côte d'Ivoire, Democratic Republic of Congo, Ecuador, Egypt, Honduras, Togo and Venezuela. Ex-post evaluations have reported on the effectiveness of several such projects in Latin America and Africa.

For a detailed account of ITTO's action agenda, please refer to the current ITTO Action Plan, or click on Resources and Project portfolio to see more about ITTO's work on statistical capacity building.