TOP >
Human resources & institutions
Human resources & institutions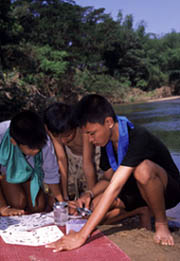 Many ITTO projects and activities help build the capacity within member countries - particularly those in the tropics - to pursue ITTO's objectives. For example, the regional African Timber Organization is implementing an ITTO project to establish capacity to implement the ATO/ITTO principles, criteria and indicators for sustainable forest management at the national level in West and Central African countries. Another project, in Peru, is focusing on the training and education of Amazon forest stakeholders in sustainable forest management techniques, and another, in Indonesia, is strengthening central and sub-national institutions to enhance plantation development in the provinces of Jambi and South Kalimantan.

In addition, ITTO operates a wide range of training programs at the national and regional levels. For example, it conducts workshops on project formulation with the aim of increasing the capacity of members to prepare high-quality project proposals for possible funding. It is also convening a series of 24 national-level workshops to introduce the ITTO criteria and indicators for sustainable management of natural tropical forests to professionals in government, the timber sector and the non-governmental community. ITTO also conducts workshop series in a range of other fields; for example, in 2003 it convened three regional workshops to assist producer countries wishing to establish credible auditing systems based on ITTO criteria and indicators and developing a training package to continue the training process.

ITTO has a significant program aimed at building the capacity of members to deliver accurate statistics about their forest sectors and particularly their trade in tropical timber; more detail on this program is available elsewhere on this site.

ITTO offers fellowships for individuals through the Freezailah Fellowship Fund to promote human resource development and to strengthen professional expertise in member countries in tropical forestry and related disciplines.

ITTO also works to raise awareness about issues related to forest management, forest industry development and economic information and market intelligence. For example, ITTO hosts and sponsors conferences and other events that facilitate the discussion of these issues and bring them to the attention of a wider audience. Some projects, too, aim to raise public awareness of these issues.

For a detailed account of ITTO's action agenda, please refer to the current ITTO Action Plan, or click on Resources and Project portfolio to see more about ITTO's work on human resources & institutions.
Regional applied research program in the Congo Basin
An ITTO workshop has developed a regional research program for the Congo Basin.
How to audit forest management
ITTO has developed a training package for the auditing of forest management.

Ongoing training for applying ITTO's C&I
ITTO has an active program for training forest managers and concessionaires in the use of its criteria and indicators for sustainable forest management.