Marketing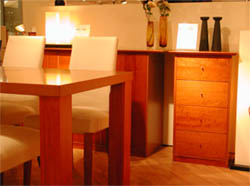 It is important that markets for tropical timber remain open and, where possible, expand as producers work towards the sustainable management of the tropical forest resource. Closing markets would possibly have the perverse effect of stimulating more forest-clearing for agriculture.

ITTO conducts a wide range of activities aimed at improving the marketing and distribution of tropical timber exports. For example, it funds activities to promote public awareness of progress being made in implementing sustainable forest management, such as a project implemented by the Timber Export Development Board of Ghana to explain Ghana's forest management approach to timber users in the United States. ITTO commissioned a study on life-cycle analysis as a potential tool for assisting the competitiveness of tropical timber in the marketplace, and another on the market for tropical timber in India. And each year the International Tropical Timber Council convenes an Annual Market Discussion, which brings together producers, consumers and traders to discuss issues related to aspects of the marketing and trade of tropical timber products.

ITTO projects also work at ground level, assisting communities to find markets for the products. For example, a recently completed ITTO project in Peru's Urumba Basin helped train local people to manage and commercialize the community's forest resources, including through the establishment of a sales centre in a nearby city. [read article]

For a detailed account of ITTO's action agenda, please refer to the current ITTO Action Plan, or click on Resources and Project portfolio to see more about ITTO's work on marketing.