Efficiency in processing and utilisation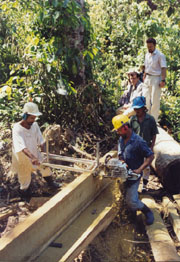 An impediment to the ecological and financial sustainability of forests and forest industries is the level of waste that often occurs both in the forest and in wood-processing mills. Considerable amounts of timber can be salvaged in harvesting operations with proper planning and careful logging practice. In wood-processing mills, residues can be used in the development of 'downstream' products such as particleboard and finger-jointing, or for the generation of electricity. Investments in new, efficient machinery can also reduce the volume of residues.

ITTO promotes efficient timber harvesting through its programs on forest planning and reduced impact logging. It also assists its members to investigate ways of reducing mill waste and for making productive use of mill residues. For example, a project in Cameroon fostered cooperation between Cameroon and Malaysia on the introduction of briquetting technology for fuelwood production; the Government of Ghana is now examining similar technology through an ITTO pre-project. Other studies are investigating 'co-generation', which is the use of mill residues for the production of both heat and electricity.

ITTO also assists its members to develop, publish and disseminate techniques and technologies on product development for and the utilization efficiency of non-wood forest products (NWFPs). A number of ITTO projects assist communities in or near forests in their efforts to manage these resources sustainably and to add value to them through efficient processing and marketing.

For a detailed account of ITTO's action agenda, please refer to the current ITTO Action Plan, or click on Resources and Project portfolio to see more about ITTO's work on efficiency in processing and utilisation.