Value adding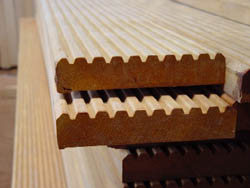 Adding value to the timber harvested from tropical forests is an important part of sustainable forest management. As more raw timber is manufactured in-country into value-added or 'downstream' products such as doors, windows, furniture and joinery, more local people will find employment and, importantly, convincing reasons for protecting the forest resource. Moreover, as the wealth of a nation increases, so too does the level of resources that can be applied to protecting the many values of natural tropical forests. A recent ITTO report shows that many tropical countries are making considerable progress in developing their value-adding timber sectors, often based mainly on plantation resources; another study provides insight into the manufacture of furniture from tropical timbers.

ITTO studies have explored different ways of promoting investments in downstream processing. At a national level, projects have produced status reports on trends, prospects and constraints affecting wood processors. Others have prepared industrial and export strategies, and facilitated technology transfer, joint investments and training in technical and design skills. Yet others have studied and, where appropriate, promoted the use of lesser-used timber species.

For a detailed account of ITTO's action agenda, please refer to the current ITTO Action Plan, or click on Resources and Project portfolio to see more about ITTO's work on value adding.