Certification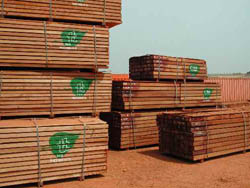 In recent years there has been a shift in some international tropical timber markets from the threat of bans and boycotts against tropical timber to calls for certification and labelling. Forest certification is a way of verifying whether a particular forest area is well managed and, through labelling, of assuring consumers that in purchasing labelled wood products they are supporting sustainable forest management.

Forest certification is one of the most contentious issues in international forest policy because it is a trade-related instrument and countries feel it could influence their competitiveness and market access. In particular, tropical timber producers are concerned about their difficulties in achieving certification status and the expected increase in production costs, while market benefits look uncertain.

ITTO undertakes a wide range of policy work related to certification: it commissions studies, convenes conferences and workshops, and sustains a debate among its members. It also assists member countries in establishing their own certification programs through projects and training. For example, the Indonesian Ecolabelling Institute (LEI) is benefiting from two ITTO projects aimed at assisting the development of the LEI forest certification scheme. In Africa, an ITTO project is helping to train forestry staff in the application of principles, criteria and indicators for sustainable forest management and in forest auditing, which are necessary steps in the process of certification. ITTO has also developed a training package, in English, French and Spanish, to assist in the training of forest auditors.

ITTO recently undertook a study on the potential role of phased approaches to certification. The results of the study are contained in the report's summary, which draws extensively on consultations with stakeholders and the conclusions of three regional workshops.

For a detailed account of ITTO's action agenda, please refer to the ITTO Yokohama Action Plan, or click on Resources and Project portfolio to see more about ITTO's work on certification.
How to audit forest management
ITTO has developed a training package for the auditing of forest management.